This week I did something I never do. I actually did laundry during the week. For those of you who are thinking, big deal, you just don't understand. Ever since I have lived away from home, the weekend was my laundry time. I prided myself on getting a majority of it done on Saturday or Sunday. Not even looking at the washing machine during the week. To me it was taboo. I would rather shove a dull spoon in my eye than touch laundry during the week.
Mr. Bernie is the one who actually pushed me out of my comfort zone. On Wednesday, he looked down at me with his big blue. His eyes were tearing up a bit as whined,  "Bernadette, I'm out of socks." I kept on doing what I was doing and tried to ignore him. Like a child, he got louder. "Bernadette, what am I going to do? I don't have any clean socks. What will I do?" I suggested he re-wear a pair that looked semi clean. He looked at me as if I suggested he run down the street naked. *eye roll* "Bernadette, I need clean socks. How will I get dressed without socks? There are no clean socks."  He call me obsessive. I finally found him a pair of dress socks in the back of his sock drawer. That seemed to appease him a bit.
When I got home, I decided to tackle the laundry. I started looking for all of Mr. Bernie's stray socks. For the most part, he is good about using a hamper. Sometimes, he forgets. Sometimes, he just doesn't quite make it there.  Perhaps he thinks the sock monster/hamper will bite his hand. I'm not quite sure, nor do I care to find out. I had a full laundry basket with all of his precious socks. I almost started shaking ,from doing something out of my comfort zone, by doing laundry on a weeknight.
Being a helper bee, Mr. Bernie followed me into the laundry room. He said, "Wow, look at all my socks. Remember not to use too much detergent on my socks." I almost hit him with the laundry basket. It gave me a creepy feeling hearing the washer going during the week. It felt sick and wrong. When the cycle was done, I suggested Mr. Bernie put his socks in the dryer. He rushed to get them into the dryer. He was almost giddy at the thought of having clean socks.
The dryer was done and beeped. Mr. Bernie flew to get his precious socks. He sat in his chair and started to pair them up. Talking to me in an excited voice the whole time. "Look Bernadette! I have clean socks! So many socks. I love clean socks. Oh, the joy of having clean socks tomorrow." Then he burst into a made up, happy sock folding song.
The following he sang to the tune, "Here We Go Round The Mulberry Bush"
Here we go folding socks again; socks again; socks again.
Here we go folding socks again; so early in the wee-eek
Look I found another pair; another pair; another pair.
Look I found another pair; I think they go together.
I did laundry during the week and lived to tell about it. I'm so proud!
Here is a 40 and Over Blog Bop. This is hosted by Java from Never Growing Old.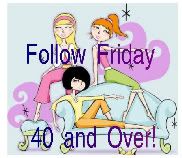 Click on the link and go check out other cool bloggers!

~Bernie