Mr. Bernie is big on presents being opened on present day. Be it your birthday or Christmas, He does not believe in something being opened early. Heck, not even fondled or guessed at. What fun is that? If a box arrives or me or for us, he scampers off and hides it in his "secret treasure hiding spot." Blah! Its one of his less endearing qualities.
On the other hand, my Mom, is big on opening something early. It's one of her most endearing qualities. It drives her sister, my Auntie Jack, nuts. It also doesn't impress Mr. Bernie at all.  Mom and I make sure when we send a Christmas gifts or Birthday gifts to each other, there is one present that can be opened when the box arrives. It's a good system, it works for us. Mr. Bernie has a really hard time with that.
Normally, Mr. Bernie doesn't check the mail. I always do it. My birthday is next week, so Mr. Bernie has been blocking my view of the mailbox. He rushes to the mailbox, almost knocking me over, to get to the mail. When he sees something that is for me, he again scampers off and squirrels it away. His Mom's box to me arrived, away it went. I think its a game with him. He knows it drives me nuts. He has a fun for him system.
A package arrived in the mail this week. I was practically knocking him down to get to it. He is 6'2″ and I'm 5'4″, so he can hold something over my head and watch me jump. (I'm mature like that. Blame it on my Mom.  I do.) Then he took the item out of the package, cut off the label and handed me the empty envelope! He cut off a part of the invoice and showed me that. It said, "Do not open until your Birthday, Bernadette." Then he toddled off all smug.
My Mom and Dad's box arrived yesterday. My Mom told me I could open one gift. Okey, works for me.  I got the box open and touched one thing and then Mr. Bernie slammed the box shut! I started yelling that I didn't get to see what was in the box. I didn't get to fondle or pick what I wanted to open.  He just smiled and said, "That is the one you took out of the box. That is the one you can open. You shouldn't be opening anything anyway!"  How did he know that was the one I wanted to open? I didn't get to fondle or see anything. What fun is that? So of course, being the mature adult, I called my Mom, whining. "Mom, Mr. Bernie is being a big old meanie. He wouldn't let me fondle anything. The first thing I touched he said was what I got to open. I don't even know what is in the box. He is mean. Make him give me back the box." Mom is just laughing her head off. I opened the package with pretty cupcake paper and it was miracle cleaning cloths.  I love those things. They give your mirror a streak free shine. I told Mom, "Oh, thank you! Its miracle cloths! I love them." She started to laugh even harder and said, "That is not much of a present to open. I just threw those in just because. I wrapped them so you would have something else to unwrap. That doesn't count. You get to open something else." Do you see why I love my mom? I can feel Auntie Jack cringing through the computer when she reads this.
I told Mr. Bernie, "My Mom said I can open something else." He just stared at me. I said, "Give me my box! I get to pick something else out." He said, "I want to talk to your Dad about this." What?? Are you kidding me?  I said to him, "Your not the boss of me!"  I handed the phone to Mr. Bernie and it was my Mom. He said, "I want to see what Bud thinks about this." My Dad was yelling in the background that I didn't need to open anything else. My Mom told Mr. Bernie to ignore him. She said, "Bern can open one more thing." He sighed and started digging through the box. Then he told me, "Away with you. I will pick what you get to open next." He was talking to my Mom, making sure I opened one of the little things. They figured out which I could open next. I was dancing as if I was doing the pee pee dance.
A package was picked and he held it over his head.  (One day I'm going to kick him in the shin or something. That height advantage really gets on my nerves) Before he would hand it to me he said, "Who is the Boss of you Bernadette?" Smirking and laughing. I told him, "My Mom!" Which of course made my mom laugh even harder. He tried again, I just ignored him. He kept it up a couple of times and I finally said, "You know what? I can wait until my birthday. I'm not saying that." My Mom is rolling on the floor by this point in time. Mr. Bernie said, "Boy, she is stubborn!" My Mom replied, "She can be when she wants."  (I get that from my Mom's side of the family) I told him to put the box away. I wouldn't say it. I still got to open the present. It was a cute Miche bag cover.  My mom was practically crying by the time this was all done. Then Mr. Bernie grabbed the box and scampered off, I still don't know where it is.
Thankfully, there is only a few days left of him being, "Overlord of the Mail and Presents"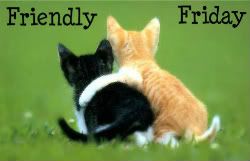 ~Bernie